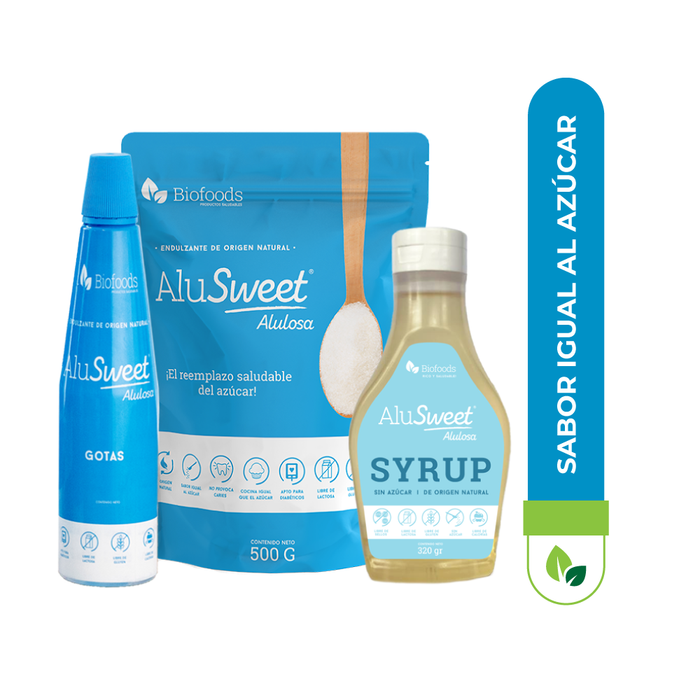 Mix AluSweet Allulose: Powder 500g + Drops 360ml and + Syrup 320g
Save

9

%
Save

9

%
Original price
$14.679
-
Original price
$14.679
VAT included
Our bestsellers in a pack and at a special price!
You asked for it, we made it happen: our bestsellers in a single pack so that you can sweeten everything you want in the healthiest and richest way.
Naturally-derived allulose, extracted from foods such as corn, figs and raisins, is the basis of the AluSweet Allulose formula, giving it a rich, sugar-like taste. Unlike other sugar replacements, AluSweet does not present gastrointestinal discomfort, while it provides prebiotic components.
Alusweet Allulose Powder 500g has the same functionalities as sugar in the kitchen, resists high temperatures, maintains volume, and more. Alusweet Alulose Drops 360ml is perfect to sweeten your hot and cold drinks without calories and with the rich sweetness of AluSweet. AluSweet Syrup 460g It is a delicious sugar-free pure allulose syrup. It provides a sweetness very similar to that of table sugar without leaving a final sensation of bitterness. It is the ideal accompaniment to crepes, pancakes, you can add it to sweeten all kinds of fruits. It is perfect for cocktail preparations

All Alusweet products are low in calories, gluten and lactose free, suitable for vegans, diabetics and recommended for the Keto diet.
Allergens: /

Contents:

AluSweet Powder 500g + Drops 360ml and + Syrup 320g

Storage: In a cool and dry place (17°-23°).

Keep container closed.

Expiration: 24 months after the date of elaboration